Media
Marilyn Proctor was featured in the Santa Fe New Mexican article:





"Keeping up with the Realtors"




Another kind of milestone was celebrated by Marilyn Proctor (owner, Adobe Destinations by Proctor Management, Inc.) last year. 2019 marked forty years since she and her husband, Daryl, opened Proctor Management. Moving here from New York in 1973, she cut her teeth in the real estate biz working in the offices of pros such as Ralph Brutsche and Frances Florsheim (both now deceased). That background gave her the confidence to open her property management office in 1979. And, Babies, she's still going strong. Today her son-in-law, Patrick Herrington, is part of the management team. Since Marilyn and Daryl have three daughters, a couple of sons-in-law and five grandchildren, Adobe Destinations by Proctor Management could be around for many generations to come.

Author: Oakley Talbott, The New Mexican

---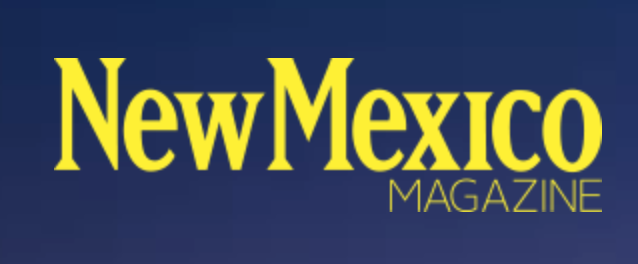 Marilyn Proctor of Proctor Property Management was recently featured in the New Mexico Magazine, discussing the services Santa Fe Property Management company can offer to Santa Fe homeowners:
"Many second-home owners defray the costs of a second home by renting it out. In well-established vacation-rental markets like Santa Fe, Angel Fire, Red River, Elephant Butte, Chama, and Ruidoso, you can hire agents to manage your home. Marilyn Proctor, owner of Proctor Property Management, in Santa Fe, educates prospective rental-home buyers about the expenses.

"The greatest outlay after buying can be furnishing it," Proctor says. Clients often expect site-specific high-end luxury, interspersed with rustic New Mexico–style pieces picked up for a song. She'll help develop a revenue-generating plan that satisfies the capital city's Byzantine rental-home permitting rules. They allow 17 rental engagements a year, each from one to 29 days. You can have only one rental engagement a week. Given those rules, you'll want to strategically plan your rental days to maximize income. Other communities are less restrictive. Even if you don't rent, get someone to keep an eye on it while you're gone." - AUTHOR: CHARLES C. POLING
---
Adobe Destinations was also featured in the February-March 2016 Santa Fean "The History Issue"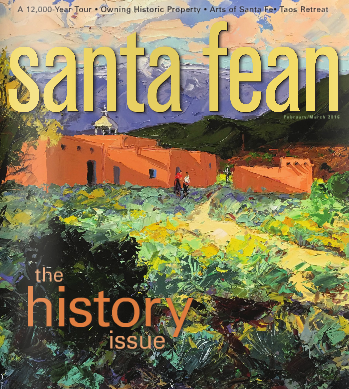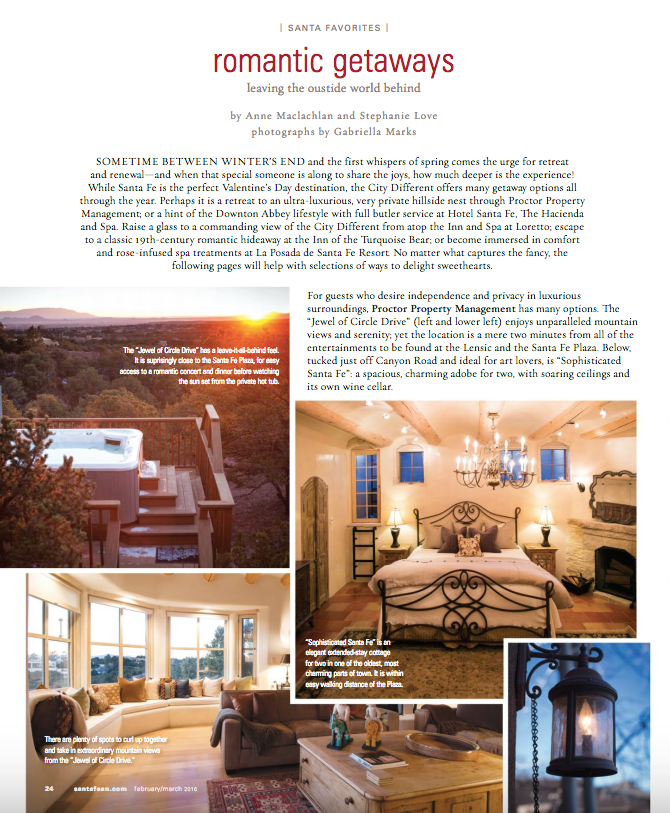 "For guests who desire independence and privacy in luxurious surroundings, Proctor Property Management has many options. The "Jewel of Circle Drive (left and lower left) enjoys unparalleled mountain views and serenity; yet the location is a mere two minutes from all of the entertainments to be found at the Lensic and the Santa Fe Plaza. Below, tucked just off Canyon Road and ideal for art lovers, is "Sophisticated Santa Fe": a spacious, charming adobe for two, with soaring ceilings and its own wine cellar."
Romantic Getaways | Leaving the Outside World Behind
by Anne Maclachlan & Stephanie Love (p.26-27)
---
Mind if I Stay a Few Days?
Enjoy this Wall Street Journal article about vacation rentals that spoke directly with Marilyn Proctor, an associate broker and leasing specialist for Adobe Destinations. You can view the entire article here.
---
Adobe Destinations Opens New Office in the Heart of Santa Fe
SANTA FE, N.M. –– Adobe Destinations, a vacation rental management company by Proctor Management, has opened a new office at 128 Grant Ave., Suite 114 in Santa Fe. The new office will offer added convenience to the company's many guests and owners, and is a direct result of the company's dynamic growth.
Since first offering vacation rentals in 2010, the company has seen double digit annual inventory growth and now manages more than 50 luxury vacation rental properties in Santa Fe.
"Centrally located in the heart of downtown Santa Fe, this new office should be more convenient for our growing number of guests and home owners," said owner Marilyn Proctor, a 30-year veteran of the Santa Fe real estate industry.
In addition to making the move to a new office, Adobe Destinations has also hired new staff to accommodate the company's growth and better serve travelers seeking Santa Fe vacation rentals.
About Adobe Destinations:
Adobe Destinations, a division of Proctor Management, is a vacation rental management company in Santa Fe, NM that specializes in luxury vacation rental accommodations. The company offers a wide range of more than 50 luxury vacation rental properties that feature beautiful mountain views and stunning sunsets and offers guests easy access to Santa Fe's historic downtown. The company currently maintains an impressive 5-star rating on FlipKey.
---
Adobe Destinations Celebrates One Year
Business briefs| The New Mexican-
Adobe Destinations grows Congratulations to Marilyn Proctor, who started Adobe Destinations a year ago. "We have grown our inventory of vacation rentals to 48 homes," Proctor said in an email. "Pretty good in these tough times." The business' projected numbers have exceeded conservative estimates, and Proctor said her staff has increased to four.
"It doesn't seem possible that we started Adobe Destinations one year ago! Who knew that in one short year we would become the most trusted name in the property management business in Santa Fe!!" With almost 50
Santa Fe vacation rentals
and 76 – 5 Star Reviews, why call anyone else? Marilyn Proctor – a name synonymous with experience, honesty and ethics – she will find the perfect Santa Fe vacation rental for you! Whether you want to walk to the Plaza or have a view in Las Campanas, you need call no one but Marilyn. "Live like a local in a
Santa Fe vacation rental
."
---
Live Like a Local
After moving to Santa Fe almost 40 years ago, Marilyn Proctor discovered her heart lies within the real-estate business. After receiving her real-estate license in 1979 and getting married in 1980, Marilyn chose to do property management. This allowed her the comfort and Flexibility of working outside of her own home as well as raising her three daughters with her husband Daryl. Marilyn founded Adobe Destinations in 2010, a small boutique here in Santa Fe, after choosing to branch out on her own. With over 30 years of experience as a real estate broker for Santa Fe, Marilyn provides the definition of excellent customer service. She has earned the reputation of being an outstanding Leasing Specialist within the Santa Fe region. Her properties are each fully furnished and feature many of the luxuries Santa Fe has to offer. She and her staff provides each guest with an experience that will surely leave an impact on them. Adobe Destinations offers a wide variety of properties to accommodate each and everyone of their customers needs on a personal level. So what exactly makes Adobe Destinations unique amongst other leasing agencies? "My big advantage with my business is my experience. The fact that we are a small boutique makes us stand out against everyone else." Marilyn explained as she displayed the many features of one of her rentals. "I have about 26-27 properties right now. I never want to
exceed over 50 because I want to keep that personal level with all of my clients, rather than being lost in a huge inventory of homes"
---
Marilyn Proctor back to running her own property-management firm

Bob Quick |
The New Mexican
Marilyn Proctor moved to Santa Fe almost 40 years ago and went into the real-estate business, working with such old-timers as retail salesperson Frances Floersheim and later, developer Ralph Brutsche. Floersheim owned Roadrunner agency and was the first female real-estate broker in Santa Fe, Proctor said. "After I started my family (of three girls), I couldn't do sales, so I started in doing vacation rentals a little bit." Proctor and her husband, Daryl, later went out on their own and established Proctor Property Management. She subsequently joined with The Management Group. Most recently, Proctor was with Kokopell Property Management.
Since the beginning of October, "after playing with the big boys," as she said in a letter, Proctor has again gone on her own and re-established Proctor Property Management. "I hope to have about 20 houses by the end of the month and already have a website," she said. "My goal is to have ... an inventory of maybe 50-60 properties. I just love the rental business."
Proctor has clients who have been coming to stay in her properties since the 1980s, many of whom appreciate her efforts to explain Santa Fe's sights and sounds and cultural affairs. "I feel I'm selling the whole city, not just a vacation rental," she said. "I feel like an ambassador for Santa Fe." Proctor's rentals range in price from $150 to $1,500 per night, including a "great house" on Circle Drive popular with such Hollywood stars as Billy Crystal, Carol Burnett, Kevin Costner, Meg Ryan and others, Proctor said. "We've had a lot of high-profile people over the years," she said, adding that guests come from all over the world, including Canada, Europe and elsewhere. Many families from Mexico visit during the winter to ski, she said.
Some things haven't changed with Santa Fe's short-term vacation rental business over the years, but one definitely has, and that's Santa Fe's regulation of the business. "Owners no longer have carte blanche to rent their properties," Proctor said. "The most they rent it now is 17 times per year, and there are no three- and four-day bookings. They can only have one booking for every seven nights." As a result, "you have to be cognizant of how you're booking the house so as to maximize the income for the owner and not lose any income," she said. "Of course, you make the most money during the high-season months. We don't like to book short stays during the peak times."
As for hard times that have reduced people's ability and willingness to spend money on travel, Proctor said she hasn't had many cancellations. "I find the true lovers of Santa Fe are coming anyway," Proctor said. "Many have family traditions to celebrate Christmas here or to see the opera." And most know of travel magazines' high regard for Santa Fe, including Condé Nast Traveler's 1992 ranking of the city as the world's top tourist destination. Proctor, who is originally from New York and worked on Wall Street, found out about Santa Fe in an article that she read in a Staten Island newspaper as she was taking the ferry. "I remember getting off the ferry and thinking that I would like to move to Santa Fe," she said. "I did that the following year. It was the best thing I ever did."
---
Community Involvement - Giving Back : A Proctor Family Tradition
Today, as for they have for the last 10 Thanksgivings, the Christian Brothers at St. Michael's High School will be receiving a knock on their house door that signals a welcome arrival: fresh pumpkin and apple pies. Marilyn Proctor coaxed her family into making and taking pies to the brothers about a decade ago. Now it is a family tradition.
All three of her daughters graduated from St. Michael's High School. "I felt blessed our kids went to St. Mike's," Proctor said in the family's comfortable Santa Fe home. "The pies are a small way to show thanks."

Marilyn's and, Daryl Proctor, is chief chef on pie-making day. "His apple pie is from his mom's recipe, and they are the best in the world," Marilyn said. Their daughters, Jenna, Jordan and Kyla, are grown and have moved out. But Jordan, 23 and Kyla, 25, were home for the family pie-making tradition again this year. If they make the pies the evening before Thanksgiving, the family chats and drinks eggnog. Unspiked, they say. If they make the pies on Thanksgiving, they watch the Macy's Parade while crafting their delectable fare and drink eggnog. Still unspiked, they say.

No early pie sampling is allowed. They have fewer Christian Brothers to make pies for each year. Usually three to four pies feed all the brothers. This year, there will be 13 brothers and a few people visiting. "One brother is diabetic, so I'm going to try making a sugarless pie for him," Daryl said. Daryl has a family recipe for apple pie filling. And this year he has a new tool that cores and peels the apples. But he admits to buying refrigerated pie dough from the grocery store. When the family shows up at the brothers' house, they're greeted by name. "They remember our daughters' names even though they've taught thousands of students over the years," Marilyn said. "I think they are happy we do this because it means we're thinking of them." Brother Joe Haras, who teaches theology at St. Michael's High School and works with the school's community-service program, said the annual Proctor family visit is always welcome. "We're very appreciative of their kindness and their spirit," he said. "Their pies and friendship have meant a lot to us through the years."

He said Marilyn is always a lot of fun. "She makes you laugh," he said. "But the real saint is the father," Haras joked. "He shares the house with Marilyn, three daughters and a female dog!" Haras said Brother George Hetzel will be cooking Thanksgiving dinner for the brothers and guests this year. Like the Proctors, Haras is grateful he'll be surrounded by loved ones because, "It is so important to be with family and friends."
---
The Santa Fe New Mexican from Santa Fe, New Mexico ·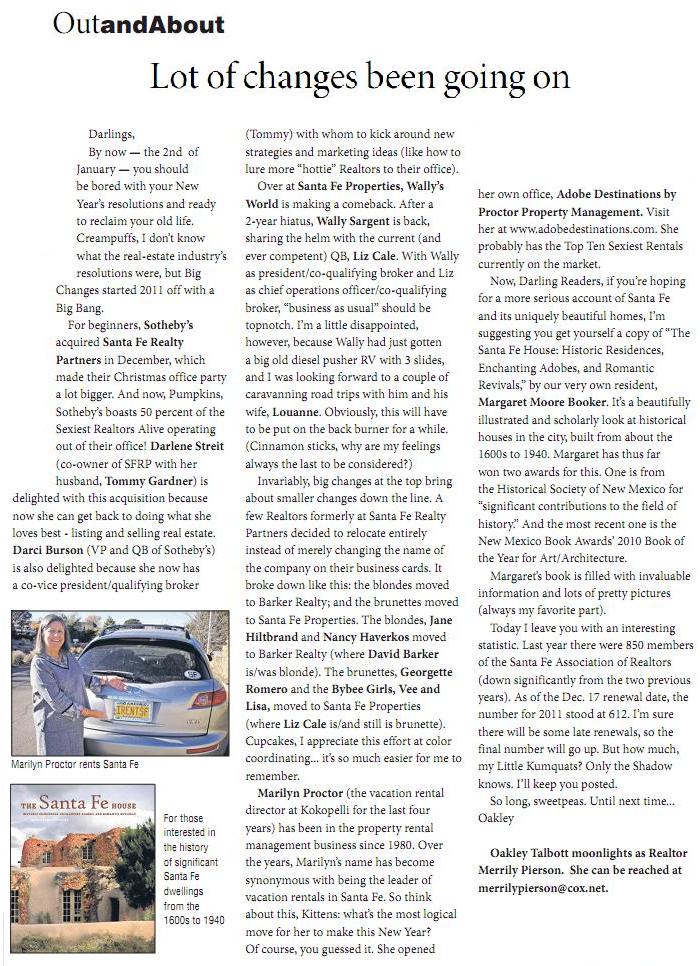 ---
Live like a local with the perfect Santa Fe vacation rental!
Adobe Destinations encourages all our guests to come experience the charm and history of Canyon Road! We offer beautiful homes near Canyon Road, Santa Fe Plaza and The Railyard District. We also offer Pet Friendly rentals and spacious homes in the Santa Fe Foothills. We are one of the oldest firms in Santa Fe specializing in exclusive short term and long term
Santa Fe Vacation Rentals
.