Santa Fe Art Markets



Santa Fe Indian Market
The Santa Fe Indian Market has been a summer tradition since 1922! What once held a few thousand pieces of pottery, textiles, silver, beadwork and paintings, the Santa Fe Indian Market is now one of the world's most renowned Native American Art Festivals with over 1,000 artists from over 100 tribes from around the country. An estimated 100,000 people attend the market it generates upwards of 160 million dollars annually in revenues for artists and the community

.
It is held on the third weekend in August.
For more information visit their website

here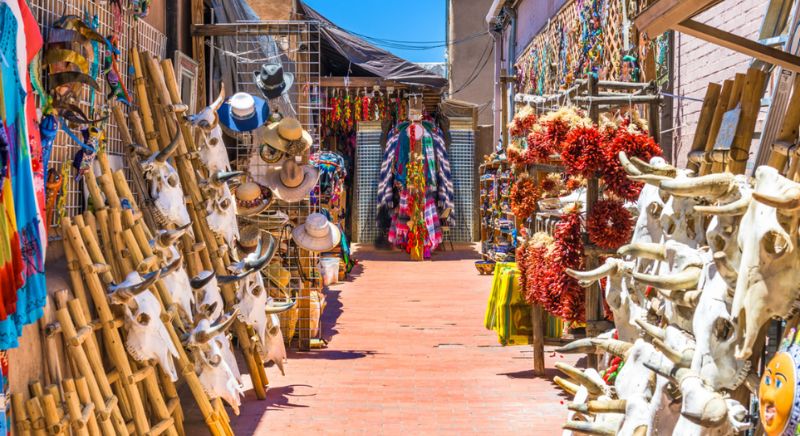 The Santa Fe Traditional Spanish Market
No summer in Santa Fe is complete without the celebrations, music, and cultural events of the annual Santa Fe Traditional Spanish Market. Attracting upwards of 100,000 visitors, locals, enthusiasts and collectors alike each July, the market plays a vital role in preserving the historical traditions that are unique to New Mexico. This free, juried art market features around 250 Spanish Colonial Artists from around New Mexico and Colorado.
Art pieces range from regional Colcha embroidery, tinwork, furniture, textiles, santos, ironwork, pottery, bonework, woodcarving and more. Organized by the

Spanish Colonial Arts Society

,

this fantastic market offers a unique opportunity to meet the artisans and ask questions about their craft, their process and their lives. Enjoy the art demonstrations, music, dancing and regional foods in one of Santa Fe's most traditional art markets!

You can find info regarding the Santa Fe Spanish Market at

www.spanishcolonial.org/spanish-summer-market-santa-fe.



Adobe Destinations offers perfect vacation homes for your stay during the market that are near the downtown and all the festivities. Be sure to book early to reserve your spot!

See all our Santa Fe rentals

.
---



Photos courtesy of Jonathan Carlson | goartistgo.com






International Folk Art Market
Situated at Museum Hill off the Old Santa Fe Trail, the International Folk Art Market invites the world's crafters from over 60 countries to come showcase their extraordinary collection of exotic textiles, skillfully mastered jewelry, baskets, ceramics and more. A stroll through this elaborate market with its colorful canopies, beautiful people and decorative artwork is a truly unique experience and will leave you exploring your next big travel destination.

The market, developed by the International Folk Alliance, brings together more than 150 artists from indigenous communities from around the world and is a leader in creating positive social change in the lives of thousands of artists, their families and members of their communities.

Every July in Santa Fe you will have the opportunity to enjoy international food, dance to live world music performances, interact with the artists and listen to their stories as well as change entire communities with your purchases at the International Folk Art Market.

You can find information regarding the Santa Fe International Folk Art Market at

www.folkartalliance.org.
Live like a local with the perfect Santa Fe vacation rental!
Be a part of the history, romance and intrigue that has made Santa Fe famous! We offer various relaxing vacation homes to rent in downtown Santa Fe near the

Plaza

,

Canyon Road

&

The Railyard District

.

We are one of the oldest firms in Santa Fe specializing in exclusive short term and long term

Santa Fe Vacation Rentals

.